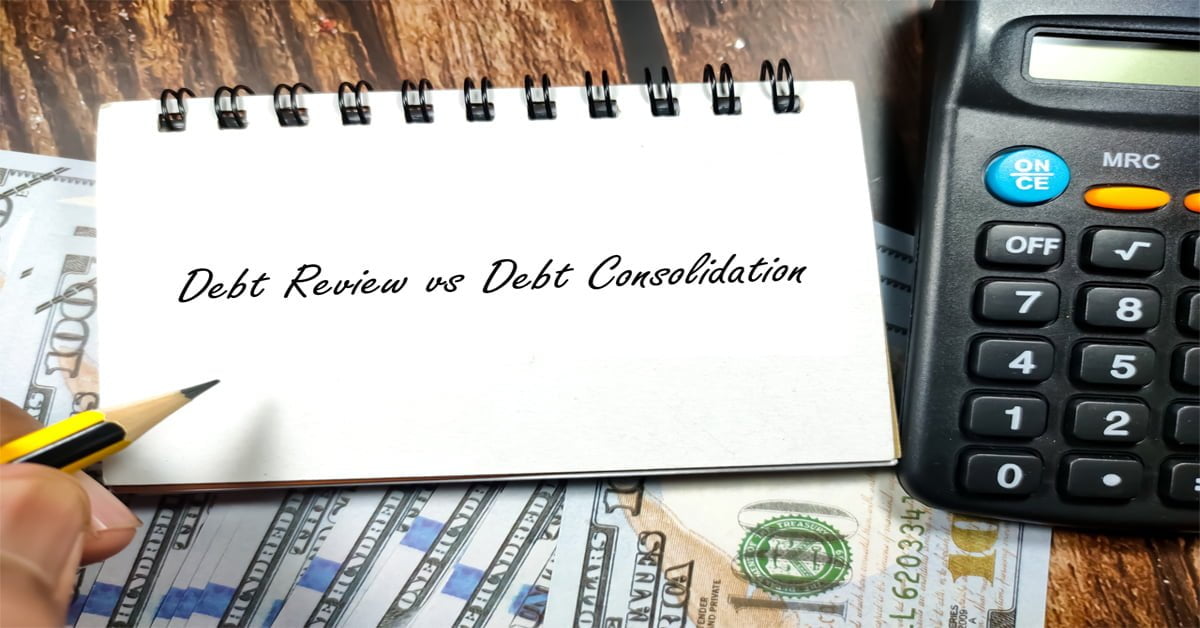 The difference between debt review and debt consolidation

There are a lot of differences between Debt Review and debt consolidation loans. Debt Review will consolidate all your debt without you having to take out a new loan. Debt consolidation on the other hand will require you to take out a loan that will settle all your combined debt.
There are a few questions you should ask yourself to determine which option would be best for you.
Am I experiencing financial strain and therefore need assistance?
Do I struggle to repay my my debts or do I pay them late?
Lastly, are any of my accounts in arrears?
By answering Yes to any of the above questions would mean that Debt Review might be the best solution. A consolidation loan company will charge a higher interest when a consumer is already experiencing financial stress.
For instance, consolidating a credit card which has an interest rate of 16,5% would in actual fact cost 11,5%* more in interest per annum.  The same would apply when consolidating vehicle finance, where the interest rate of 13% would increase by 15%*.
The higher rate would mean that you will pay a lot more towards settling your debt than what you would have under Debt Review.
Debt review vs debt consolidation case study

We have done a debt consolidation loan case study where a consumer's accounts totaled R100 000.
If the consumer opted for a debt consolidation loan, he would have been paying the same monthly instalment but over a much longer period.
The original interest rate for the consolidation loan would have been 28%* per annum. Debt Review negotiations reduced the interest of all the accounts by 50-80%, saving the consumer 23 months of payments. As a result of the debt review negotiation the client saves R 79 000 in interest!
In conclusion, if you are not experiencing financial difficulty you could decide to opt for a consolidation loan. However, keep in mind that low interest saves you money in the end, and this is what Debt Review will offer. Reduced monthly payments while benefiting from low interest rates.
*These interest rate figures were obtained from one of South Africa's leading debt consolidation companies.