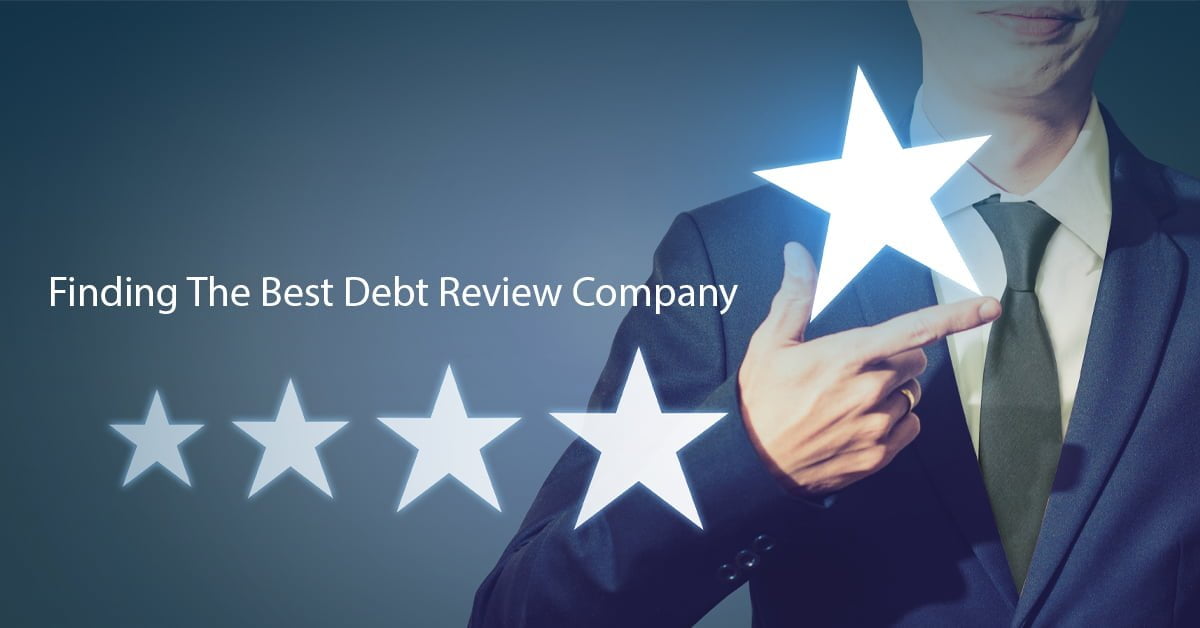 Find the Best Debt Review Company

You're finding yourself in financial difficulty and you realise that you need assistance.  You've done the research and you know what debt review is about . You've realised that it could work for your financial situation.  Firstly, well done on taking the graceful step towards freeing yourself from financial burden!  This does however beg the question – how do you go about finding the best debt review company in South Africa? 
Do Your Research (We Don't Mean Google)
Your first point of research will naturally be an internet search engine.  We need to caution you though – there are many companies who claim to be the number one debt counsellor in South Africa, but this is nothing more than self-proclaimed praise. You have every right to be wary, in fact, we encourage you to be wary and to dig deeper before choosing a debt counselling company.
So, if you can't really rely on online searches yielding trustworthy results, how do you find the best debt review company?  In short, the best way to find a debt counsellor is to refer to actual client reviews.  This will give you the insight into the company from first-hand experience – rather than relying on search results that are mostly bolstered by expensive ad campaigns and misrepresentation.
Where Can You Read Debt Review Client Reviews?
Hellopeter is a great place to start.  It is South Africa's leading review platform, connecting consumers and businesses in all sectors of trade.  Because Hellopeter actively monitors reviews to ensure that they are legit, they have become a reliable source to millions looking for reputable business services.  It is also an excellent reference point if you're looking at which companies to avoid.
Consumers can leave reviews, be they negative or positive, and companies are given the opportunity to respond to the reviews.  It is often in these responses that one can safely gauge how ethical and accommodating a business truly is.  Do not accept anything at face value though. Keen observation is also required. Hellopeter has written this article on how to spot fake reviews.
Debt counselling falls under financial services, so if you're searching for a debt review company, go to Hellopeter Financial Services.  You'll notice that Sandton Debt Counselling ranks as the number one debt review company in South Africa.  Although we can safely say that you're in competent hands should you choose SDC as your debt counsellors, we recommend that you read all of the reviews and responses, of other DC companies. Pay particular attention to the 1 star reviews.  These are telling to say the least and you'll soon be able to make an informed decision with confidence.
What Else to Look for in a Top Debt Counsellor
It is also essential that you choose a debt review company that is fully licensed and registered to operate as debt counsellors.  The NCR (National Credit Regulator) is the governing body that regulates all financial institutions in South Africa, including debt counsellors.
Each debt counsellor (DC) will be issued an NCR registration number (the number will start with NCRDC).  You can visit the NCR website and either search by the company name or by the registration number.  Of course, if you search a company or registration number that produces no results or shows that it is not registered – avoid at all cost.
Any More Advice?
Something that should raise an immediate red flag and pique your suspicions is 'cold calls' from so called debt review companies.  These are often call centre agents who get referral commission whenever they successfully 'sign up' a client.  They usually act on behalf of DC companies who often obtain your personal information via 3rd parties illegally.  They can be very persuasive, making grand promises which frequently cannot be fulfilled.  Should you get a call from someone claiming to be a debt counsellor, a sure-fire way to check the legitimacy of the call is to ask for the callers' DC number. Verify this number on the NCR website along with the same keen research on reviews.
Always ask how long the company or debt counsellor has been in the industry as experience does matter. Make sure they have a passion for what they do and can prove their competence to you.
Sandton Debt Counselling understands the responsibility of the trust you place in us and our reputation of satisfied customers speaks for itself.
Another important aspect to factor in is that you'll be walking a close path with your chosen debt review company for quite a few years to come.  It is therefore important that you feel like you 'connect' with your DC.  Having a patient, friendly, helpful and efficient team on your side will make your debt review journey so much easier to endure and to see through until the end!